Description
Soft Wax Filler Sticks for filling cracks in veneer, wood, holes, dents, small cracks and scratches, fairly small open joints which are not sublect to a great deal of wear.
The price shown is for 10 x 8cm sticks
Ral9005 Black
166 Wenge
139 Dark Rosewood
143 Dark Oak
141 Light Oak
158 Dark Beech
207 Natural Pine
178 Natural Maple
351 Off White
ral9010 Pure White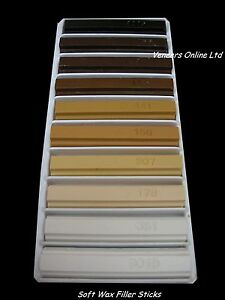 Please note that the on-screen colour is not necessarily a precise representation of actual wax colours due to photo light.
Can be used on natural timber treated or untreated or artificial surfaces
How to use
Remove loose material from the damaged area. Score the surface area to improve adhesion of the filler.
Use a spatula to fill the damaged area with the soft wax until it is flat, applying gentle pressure. The repaired area can be matched to the colour of the background by applying different shades one on top of the other.
If required the level of sheen can be matched by spraying on several thin layers of varnish.
The stick can also be rubbed into thin scratches like a crayon.
Payment & Security
Your payment information is processed securely. We do not store credit card details nor have access to your credit card information.